The Rillito River Project
In January, 2007, an international group of artists, architects, musicians, writers, builders, and anthropologists gathered in the dry Rillito riverbed to explore, discuss, learn, and collectively interpret through creative expression the whispered prose of the dry riverbed. The previous summer the Rillito filled with rain, rushing and roaring, at once beautiful and dangerous. Winter found debris still tightly woven by the brute force of the monsoon against the concrete bridge piers under Campbell Avenue.
A story was being told for those who cared to listen. Uprooted trees and broken branches, plastic water bottles and shopping bags, chunks of masonry, pieces of furniture, piles of dark bat guano, cigarette butts, creosote bushes and twisted bits of metal constructed a visceral narrative of climate change. Imaginations of the assembled floated from utility to the fantastic as they began to share idea and concepts on ways to bring attention to the missing water.
Rillito River Project Intro
Bat Night Introduction from Ellen Skotheim
Ellen Skotheim gives us a tour of the dry riverbed site in Arizona that not only inspired the planning of Bat Night, but the beginning of the Rillito River Project itself.
The project is envisioned as a series of ongoing events in which artists conceive and plan artwork to be installed or performed in the riverbed. The work is documented with photography, video and prose.
The dry Rillito riverbed that runs east to west through Tucson, Arizona was chosen for its rustic beauty contrasted against the majestic Santa Catalina Mountains. Once flowing year-round, the Rillito now runs primarily during the summer monsoon season.
Global climate change, unprecedented population growth, and serious drought threaten the already tenuous water resources of the Southwest. During the long, dry season, walkers, cyclists, and riders on horseback descend from the adjacent park system into a landscape of stark beauty, shadowed by loss.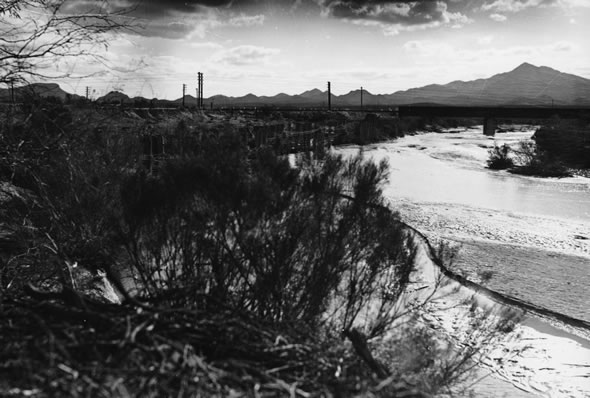 Rillito River, February 20, 1936. Courtesy of Arizona Historical Society
The Rillito River Project, inaugurated in January, 2007, "Aims to raise awareness of the impact of global climate change on the vanishing rivers of the Southwest" says Rillito River Project's Creative Director, Ellen Benjoya Skotheim. "We want to draw attention to the devastating effects on the environment and increase consciousness of the delicate balance of life and river ecosystems in the desert through art performance and installations."
The first performance by the Rillito River Project, Fishing on the Rillito, was performed at the end of concept week in January, 2007. Artist Ap Gorny is creating a print commemorating the event.
The second, Elemental Flow preview concert, was performed by Patmore Lewis in October, 2007. The composition appears on his recent CD release, Rillito River Project. A portion of the profits from the CD sales is returned to Rillito River Project to fund future events.
Rillito River Project artists and participants 2008: Ellen Benjoya Skotheim, Ap Gorny, Patmore Lewis, Vidar Lerum, Chris Tanz, Angela Rose, Susan Lobo, Karen Stahlecker, Terrol Dew Johnson, John Newman, Mike Treeful, Joan Kaye Cauthorn, Catherene Morton, Vic Baker, Kimble Cohn, Michael McNulty, Yar Petryszyn, Ruth Bunny Davis, Jennifer Powers-Murphy
---
Donate
If you would like to help Rillito River Project create artwork to increase awareness to the serious issue of vanishing rivers of the Southwest, we welcome your participation by way of a donation. We thank you for your generousity.
The Rillito River Project is funded entirely by private donations which are tax deductible and may be made through Paypal:
Or Donate by Check payable to Rillito River Project and mailed to Rillito River Project, 7080 N. Cathedral Rock Place, Tucson, AZ 85718.
For more information, we can be contacted by phone at (520) 955-3429
---
Rillito River Project Participants
Ellen Benjoya Skotheim, Creative Director, Rillito River Project, received her B.A. in Landscape Architecture with Highest Honors from the University of California, Berkeley and her M.A. in Urban Planning and Design from Antioch College, San Francisco. She has worked internationally as a Consultant Landscape Architect and Urban Planner. Her artwork has been exhibited in the Central Arts Collective in Tucson, Center for Jewish History in NYC, American Turkish Association of Northern California, Palo Alto, Turkish Consulate, Los Angeles, Artist Center, Molde, Norway, and most recently at the Broadway Gallery in NYC.
Ap Gorney studied at S.U.N.Y. College Buffalo earning a BFA, and MFA from Yale University. His work is in permanent collections at The Brooklyn Museum, The Victoria and Albert Museum, London; The Solomon R. Guggenheim Museum, New York; Museo de Arte Costarricense, San Jose, Costa Rica; The Philadelphia Museum of Art; The Pennsylvania Academy of Fine Arts; The Franklin Institute; and the National Gallery, Washington, D.C. He is a recipient of major fellowships from The National Endowment for the Arts, Pennsylvania Council for the Arts, and the Pew Fellowships in the Arts.
Patmore Lewis is a violinist in the Metropolitan Opera Orchestra of New York City. He also performs as a soloist and chamber musician in the U.S. and Europe. In November of 1992, Mr. Lewis made his Carnegie Hall recital debut and subsequently appeared live on radio broadcasts on NPR, nationally with singer Jessye Norman, and with Henry Threadgill's Jazz Windstring Ensemble. When the Metropolitan Museum of Art acquired a rare Amati violin for display, Mr. Lewis was selected to perform for specially invited patrons. He has performed at New York's Town Hall, The Kitchen Soho Galleries, Cathedral of Saint John the Devine, Merkin Hall, Alice Tully Hall, The 92nd Street Y, The Library of Congress and Summer Stage in Central Park.
Vidar Lerum received his Ph.D. from the Norwegian University of Science and Technology and Master of Science in Building Design from Arizona State University. He is an architect, researcher, and educator with expertise in the design, construction, and performance evaluation of climate responsive, energy-efficient buildings. In 1994, he received the Ralph B. Haver Award for exceptional talent and promise in arid region planning and design. He is a member of the Norwegian Architecture Association. Currently, he is a Professor at the University of Illinois at Urbana-Champaign and the author of High Performance Building, published by John Wiley & Sons.
Chris Tanz received her B.A. in History and Literature from Harvard University and her Ph.D. in Psychology from the University of Chicago. An author and artist, she has created numerous public art projects in Tucson including the solar-powered earth/heart, Tucson Convention Center; and Strata, Catalina Highway. With Paul Edwards she created Sun Circle, Rillito River Park; Sand Trout, Tanque Verde Bridge; Play Ball, Kino Veterans Memorial Park; Many-color Mountain, Ajo and Mission; and Silver Linings, Tucson International Airport (with Vytas Sakalas). Water-to-Water, Scottsdale Water Campus, received the Environmental Excellence Award of Merit from Valley Forward Association in 2000.
Angela Rose co-founded Santa Theresa TileWorks along with artist Susan Gamble in 1996, and together they created public ceramic tile installations in Tucson including Mi Tierra Floor Mural, Valencia Library Mural, Naco Border Station Mural, and Children's Center Mural , along with Paul Revere Park mural in Boston. She left Santa Theresa TileWorks to receive her B.A. in Studio Art, cum laude at Smith College in 2002. Special studies include Sculpture in an Outdoor Setting, Ada Comstock Scholar, Preshco Study Abraod participant, Cordoba, Spain. Since 2002, Angela Rose has received commissions for private installations using steel and glass mosaic and oil pigments on steel.
Susan Lobo received her Ph.D. in Cultural Anthropology from the University of Arizona. She is currently a Distinguished Visiting Scholar in American Indian Studies at the University of Arizona. Her research interests are in indigenous peoples worldwide and American Indians with a focus on contemporary issues. She is the author of Urban Voices: the Bay Area American Indian Community, American Indians and the Urban Experience, and Native American Voices: a Reader.
Terrol Dew Johnson is the co-director of Tohono O'odham Community Action (TOCA), a strategy of four integrated programs designed to create a sustainable and healthy Tohono O'odham community. He is an accomplished basket weaver, crafting traditional and contemporary Tohono O'odham baskets. He was Artist in Residence at the National Museum of the American Indian in New York City, and is Curatorial Consultant with the National Museum of the American Indian in Washington D.C.
Karen Stahlecker received her BFA from Washington University and her MFA from School of the Art Institute in Chicago. She is an internationally known installation artist who pioneered the use of handmade paper in her sculptures and installations. Her work has been seen in the Czech Republic, Belgium, Japan and Switzerland. She is the recipient of Fulbright and NEA Fellowships. Her work can be found in the permanent collection of the Smithsonian.
Alison Hawthorne Deming is a poet and essayist, Professor in the University of Arizona Creative Writing Program, and Acting Head of the Department of English.  She is the author of four books of poetry, most recently ROPE (Penguin, 2009) and three books of nonfiction, including WRITING THE SACRED INTO THE REAL (Milkweed, 2001).  Her work has been widely published and anthologized, including in the Norton Book of Nature Writing and Best American Science and Nature Writing. Among her awards are two fellowships from the National Endowment for the Arts, a Wallace Stegner Fellowship from Stanford University, and the Walt Whitman Award of the Academy of American Poets.
Beth Weinstein was a project architect in the Paris office of Jean Nouvel before founding her own practice, Architecture Agency, which focuses on collaborations with visual and performing artists, in and out of proscenium space. As an Assistant Professor at the University of Arizona she teaches design, technology, and leads collaborative projects and seminars linking architecture and dance / performance. Her research and writing on architecture and choreography has been published in the Journal of Architectural Education, Places, the Architect's Newspaper and presented in the US, Australia and Mexico. Honors include the Architectural League's Young Architect's Award, and residencies at France's Casa de Velazquez and Tucson's Museum of Contemporary Art.
Ellen McMahon is an Associate Professor in the School of Art at the University of Arizona interested in the relationship between art, design and the environment. Her work has been widely exhibited, collected, published and written about. She is the recipient of a Fulbright Scholars Grant to contribute as a designer, writer and visual artist to an interdisciplinary conservation project in Puerto Peñasco, Mexico (2007) and a University collaborative research grant (2010) to work with the Rillito River Project. Her work is featured in Clean New World: Culture, Politics, and Graphic Design and Feminist Art and the Maternal. Her essays are published in Mother Reader: Essential Writings on Motherhood and The Oldest We've Ever Been: Seven True Stories of Midlife Transitions.
Ander Monson is the author of a host of paraphernalia including a decoder wheel, several chapbooks and limited edition letterpress collaborations, a website http://otherelectricities.com , and five books, most recently The Available World (poetry, Sarabande, 2010) and Vanishing Point: Not a Memoir (nonfiction, Graywolf, 2010). He lives and teaches in Tucson, Arizona, where he edits the magazine DIAGRAM thediagram.com and the New Michigan Press.
Mary Ellen Strom is a video artist who utilizes media technologies in service of social critique. Her installations and site-specific projects unearth submerged narratives within art, history and cultural discourse. Her work has been exhibited in a wide range of contexts including museums, galleries, passenger trains, large-scale video projections onto industrial sites and mountain rock faces, in empty retail stores and horse arenas. She has received recent awards including the Artadia Award, Fund for Art and Dialogue, 2007 and the Augustus Saint-Gaudens memorial Fellowship Prize 2006. Recent project grants include LEF Foundation, Art Matters, Arts Partners, Rockefeller MAP and Creative Capital among others. Strom's work has been exhibited at the Museum of Fine Arts, Boston, Museum of Contemporary Art, Los Angeles, Institute of Contemporary Art, Philadelphia, Yerba Buena Center, San Francisco, DeCordova Museum, Lincoln, MA among others. She is represented by Alexander Gray and Associates in NYC and teaches at the School of the Museum of Fine Arts, Boston.
Jane D. Marsching is a digital media artist who explores our past, present and future human impact on the environment through interdisciplinary and collaborative practices, including video installations, virtual landscapes, dynamic websites, and data visualizations.   Her current work mines Thoreau's many observations of seasonal plant and animal life at Walden Pond to consider the impact of climate shifts on this landscape at the heart of our American imagination of all that is nature. Recent exhibitions include: Galerie Lucy Mackintosh, Lausanne, Switzerland; the ICA Boston; MassMoCA; and the San Jose Museum of Art, CA. She has received grants from Creative Capital, LEF Foundation, Artadia and Artists Resource Trust.  She is a cofounder and member of Platform2: Art and Activism, an experimental forum series about creative practices at the intersection of social issues. (www.platform2.info)  With Andrea Polli, she is editing and writing a publication of collected essays entitled: Far Field: Digital Culture, Climate Change, and the Poles (Intellect Books 2011).
Heather Green is an artist and educator whose projects and installations examine the communal and ecological narratives of the Northern Sea of Cortez. She is a recipient of the 2011 Arizona Commission on the Arts Artist Project Grant, the 2010 Community Foundation of Southern Arizona/Buffalo Exchange Arts Award and the Oregon College of Art & Craft Emerging Artist Residency. She is currently an Adjunct Instructor at the University of Arizona and Pima Community College.
Rillito River Project Board of Directors
Ellen Skotheim, John Newman, Ruth B. Davis, Catherine Morton, Kimble Cohn, Susan Lobo, Paul Durham
Technical Support: John Newman, Mike Treeful
Facilities: Joan Kaye Cauthorn, Catherene Morton
Advisors: Vic Baker, Ph.D., Kimble Cohn, Architect, Michael McNulty, Esq., Yar Petryszyn, Ph.D., Ruth Bunny Davis
Publicist: Jennifer Powers-Murphy