The Water Table
An Engagement of Performance Art and Nature
Bat Night 2009 was accompanied by a companion installation titled "The Water Table."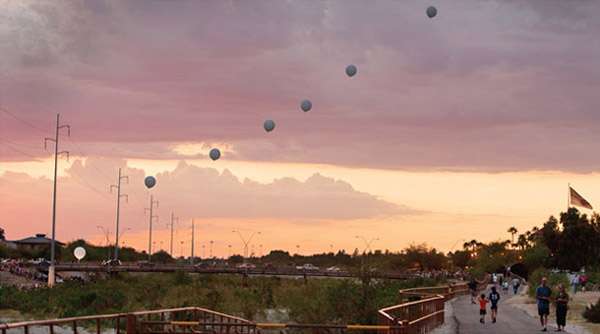 An environmental art group presented an inverted water table made with seven weather balloons, eight feet in diameter. The balloons were raised to the sky above the dry Rillito riverbed to demonstrate the depth to which the water level has dropped as Tucson's population has increased from 40,000 to 1 million.

The sky chart illustrated the Tucson water table's dramatic plunge of 170 feet between 1945 and 2005, a result of increased pumping of ground water and a multi-year draught. The riparian habitat along the river has vanished and Arizona is on the front line of ongoing climate change.

The Rillito River Project, inaugurated in January, 2007, fuses art and science to create ephemeral environmental installations and performance art events on a dry riverbed site in Arizona. Their aim is to bring artists together to work on projects that raise awareness of the devastating effects of global climate change on the vanishing rivers of the Southwest.