Elemental Flow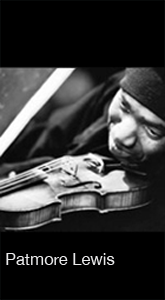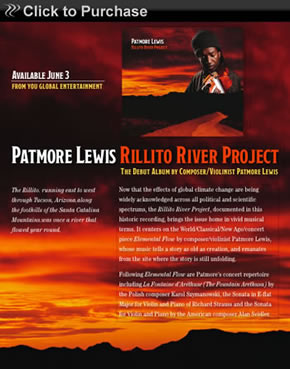 Now that the effects of global climate change are being widely acknowledged across all political and scientific spectrums, the Rillito River Project, documented in this historic recording, brings the issue home in vivid musical terms. It centers on the World/Classical/New Age/concert piece Elemental Flow by composer/violinist Patmore Lewis, whose music tells a story as old as creation, and emanates from the site where the story is still unfolding.
Following Elemental Flow are Patmore's concert repertoire including La Fontaine d'Arethuse (The Fountain Arethusa) by the Polish composer Karol Szymanowski, the Sonata in E-flat Major for Violin and Piano of Richard Strauss, and the Sonata for Violin and Piano by the American composter Alan Seidler.
On October 20, 2007, Elemental Flow, the title track from Rillito River Project received its first performance in the Rillito riverbed before an audience of 150 invited guests.
The following video shows the unusual setup of the event accompanied by a portion of the Patmore Lewis composition.
The Rillito River Project, a 501C3, is funded entirely by private donations. A portion of the profits from the sale of Patmore Lewis' Rillito River Project CD is returned to the Rillito River Project in Tucson, Arizona to fund future events.