category: Art Lab
Travelling North to Oracle
Posted
4
December
2011
by
Fritz Buehner
Driving from Tucson north on 77 toward Oracle and Biosphere 2, I'm in awe of the sprawl of rooftops that flank either side of the highway barely visible above the low-lying creosote trees. Knowing this to be a stressed environment I wonder, how can this be sustainable?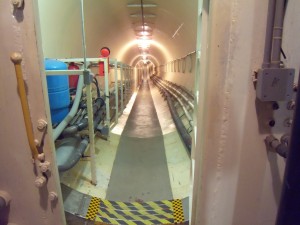 Tunneling deep into Biosphere's vast substructure of stainless steel walls, concrete chambers, holding tanks, air filtration systems, still troughs of  condensation, listening to a hydrologist, chemist, biologists, and policy experts tell stories of the regions ecosystems, plant chemistry, water distribution, and invasive plants helped me see beyond the crenellated horizons formed by the sprawling rooftops to something both ironic and promising. Biosphere 2, that began as a utopian experiment to create a portable earth environment for human survival on Mars in some far distant future, now serves as a laboratory for studying and understanding climate that envisions a sustainable environment it in the moment.
When I think about how long scientists have been searching for extraterrestrial intelligence, I see in my mind's eye the earth, a tiny, but brilliant blue speck sheilded by its fragile atmosphere against the vast fullness of  space as the rarest of things.
The world population is now 7 billion and the competition for resources among all living things fierce.
My personhood will always make me the center of my universe.  The visit to Art Lab, to Biosphere 2, the Chiricahua Mountains, and Sonora desert, with an international group of artists to meet extraordinary people dedicated to revitalising a land degraded through mismanagement was inspiring. Energized at home I can imagine that what may seem incommensurable can be rethought.
To be continued…